Explore Vietnam
Wake Up and Smell the Incense
Biking, hiking and boating in Vietnam
By Sarah B. Hood with Niamh Plunkett & Andrew Schaefer
You remember Vietnam for its colours and its scents. Visually, it's a contrast between nature and intricate decorative creations. On one hand, it's fresh, impossibly green rice-paddy vistas dotted with the brilliant flash of a white crane or the earthy smudge of a water buffalo. One the other, it's the crimson and gold opulence of a blossom-festooned temple altar carved with gilded dragons.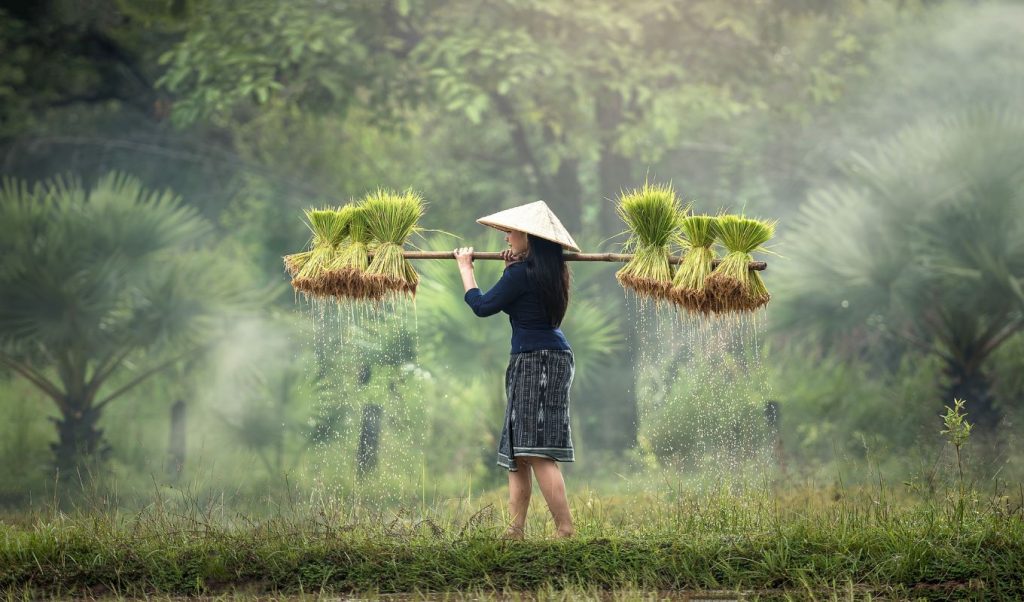 From street food stands and night markets comes the aroma of tantalizing meals. Inside the temples, there's the tang of Buddha's Hand citrus, and everywhere, there's the sweet waft of incense. They're sensory invitations to breathe deep and taste everything – which means getting out of the tour bus and off the main roads, literally.
Hạ Long Bay by Boat
Geology has gone crazy in Hạ Long Bay. Here, thousands of limestone islands thrust upwards from murky green water. The legend says they were created by a dragon plunging into the sea, and you can only see them from the water via junk cruise (or the local ferry). We're amazed by the weird beauty of these rocky formations, which are covered with vegetation and riddled with caves.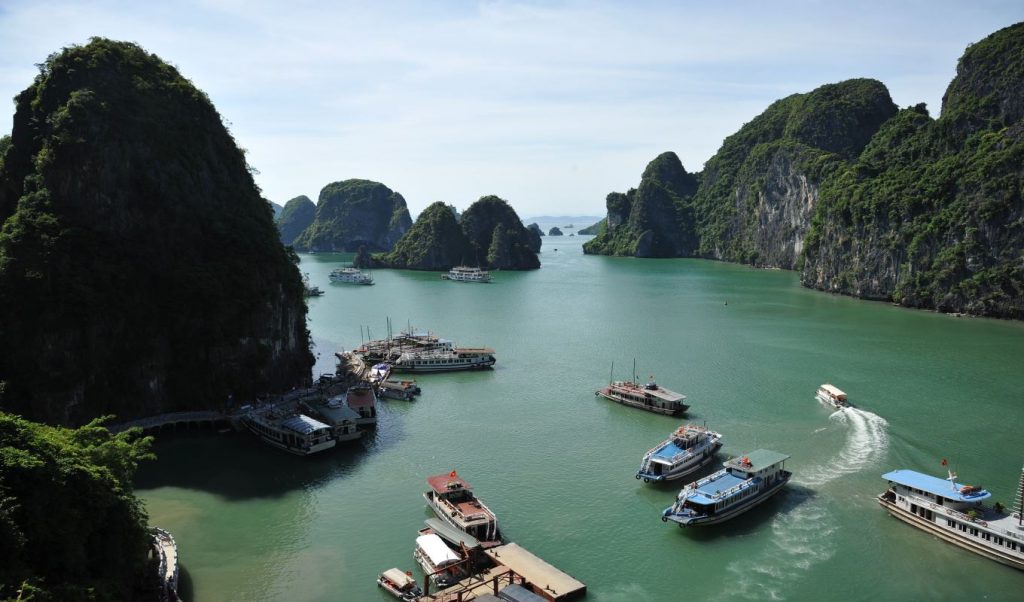 The air is cool and thick with humidity and the smell of fish as we drift toward Cát Bà Island, the largest in the chain. It's topped with a wartime artillery station, a quad-testing half-hour hike uphill (or a comfortable scooter trip) to an installation of soldier statues manning the defunct gunnery and a sensational view across the bay. We rent bikes to tour the rest of the island on our own. They're clunky retro cruisers with chubby tires, but they do the job over moderate hills and some slightly rough terrain.
Hội An by Scooter
As soon as we arrive in this coastal town, locals start asking us whether we have a tailor yet. People come here to have silk clothing and leather goods made up from a sample or a photo; we run into one woman who's come to have her wedding dress sewn.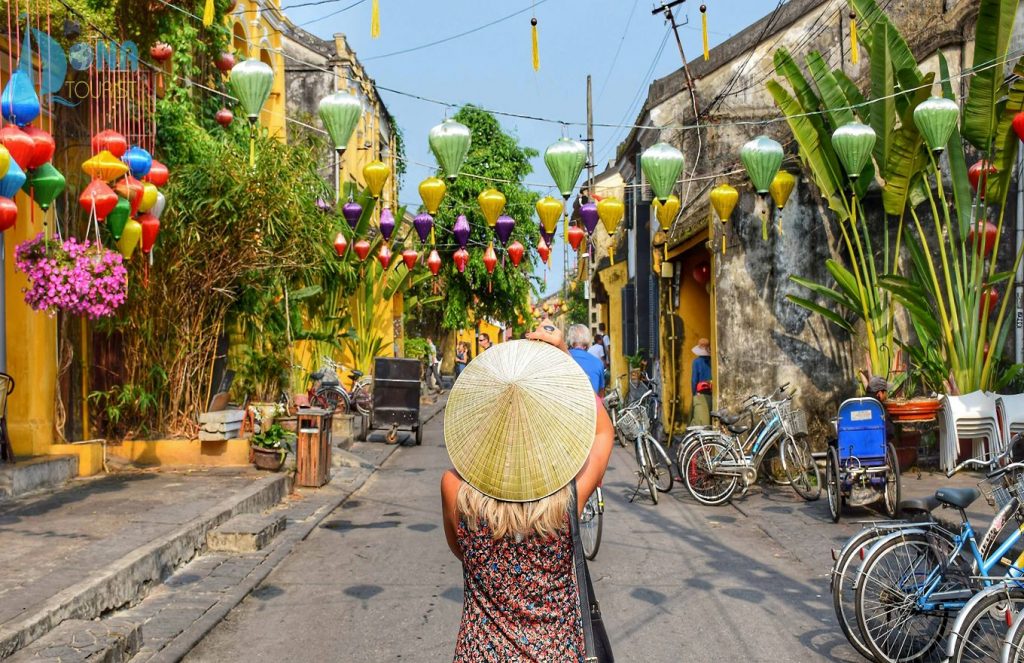 Hội An is also famous for its monthly full-moon lantern festival, when all the artificial lights in the historic old town are turned off, and the streets fill up with people strolling by lantern light, or buying little boat-lanterns to launch on the darkened water. Even between festivals, lanterns are everywhere, and we can't resist buying dozens of these crisp paper confections for a few dollars each to ship back home.
After a few days of strolling, we decide to take a scooter trip to the nearby Mỹ Sơn sanctuary, an abandoned temple site. As soon as we get on the road, we know we've made a great choice. We're travelling on narrow roads not much bigger than a city sidewalk that run between rice paddies. Little towns and fields unroll for us seamlessly, and we're free to stop anywhere we like.
Mỹ Sơn is a complex of 71 monuments and tower temples that were built over a thousand-year period beginning in the 4th century. The buildings are made of red-brown brick and decorated with stone carvings that look like nothing else in Vietnam. The Cham people who built them worshipped the Hindu divinities, especially Shiva, so the carvings are influenced by Indian culture, and they're unique in Asia.
The monuments have been damaged by weather and war, but decay makes them even more beautiful; they seem to be merging with the vines and mosses that grow up around them, as if they're returning to the earth they're made of.
Sa Pa on Foot
We reach Sa Pa in February, when the rest of Vietnam is already edging toward the breathless heat of March, but this northern mountain district is still dusted with snow. We're underdressed for the weather, so we pile on every spare layer before setting out.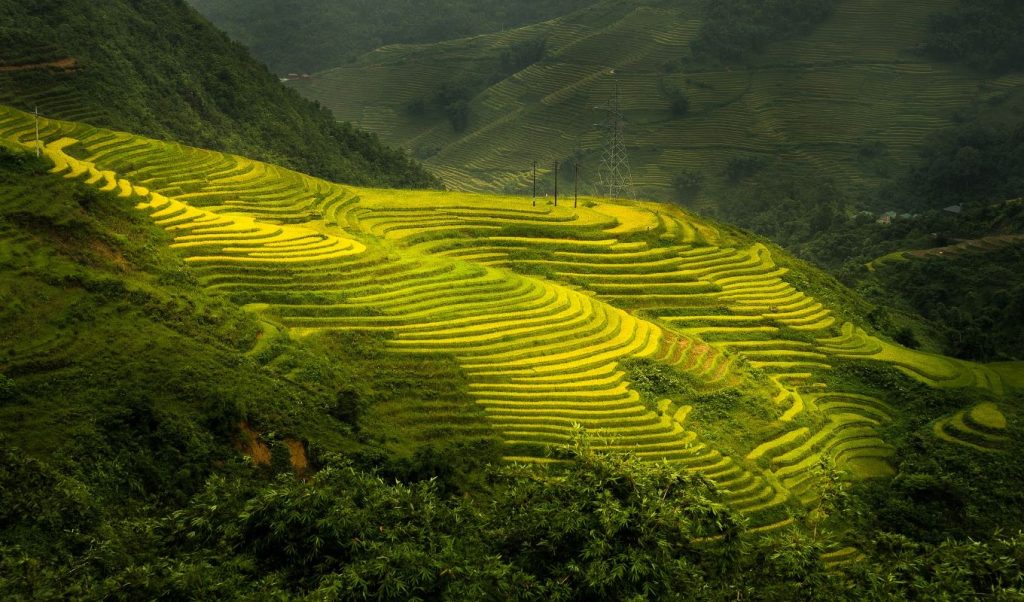 Sa Pa has a remarkably diverse ethnic mix (about half the population is made up of the Hmong people, who also live in the mountainous areas of China, Laos, Myanmar and Thailand). The air has a rich wet, earthy smell as we explore bright green terraced rice paddies. The terrain is rough (and the hills rise at a 45-degree angle), but we have no trouble navigating with the help of maps posted in public areas. It's a pure escape from technology and industry, into a vision of Vietnam's rural past.