Family Fun at Nickelodeon
By Sarah Pittard.
This article originally appeared in Ensemble Vacations
Families looking for a sunny escape will love Nickelodeon Hotels & Resorts Punta Cana. This kid-centric property offers a perfect balance between luxury and family fun.
As I watch my kids float past my beach chair, I can't help but notice the smiles on their faces. Surrounded by new friends, they swim in the lazy river laughing and singing to the Nickelodeon soundtrack that plays through the loudspeakers. It is only our first day at the Nickelodeon Hotels & Resorts Punta Cana but I already know it will be an incredible week.
With numerous all-inclusive resorts to choose from across the Caribbean, determining which will be a perfect fit for your family can be hard. I was looking for something a little different on this trip. A property where my almost nine-year-old could assert some independence, but where my nine-month-old nephew would also be entertained. I wanted to choose a resort with a family pool where my kids could feel free to just be kids, but somewhere that I could also relax.
I decided on the Nickelodeon Hotels & Resorts Punta Cana after finding out there was not only a kids' camp and character breakfasts, with the likes of Paw Patrol and Dora, but there is also the full-service Vassa Spa and an adults-only pool.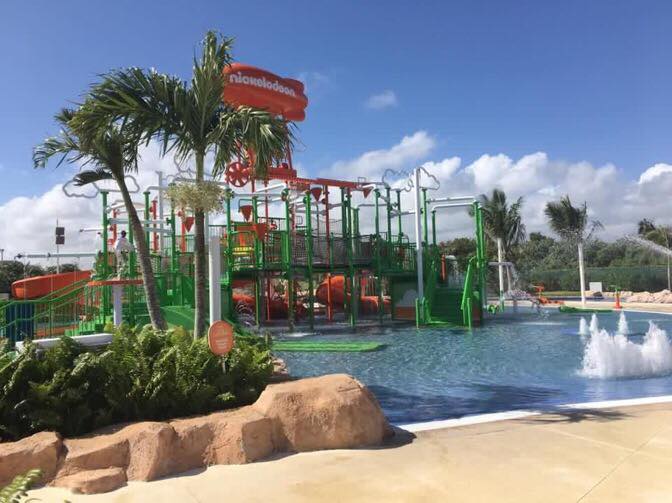 Each morning, we enjoy a gourmet room service breakfast in our room. We are staying in a swim-up flat suite which features a private master bedroom, oversized bathroom and a living room complete with a pull-out sofa. My favourite feature is the 118-square-foot patio attached to a long pool shared between nine rooms. From the round day bed, I can watch my kids swim while also enjoying an exquisite view of the ocean.
After breakfast, we head to the beach where the kids play with boogie boards provided by the hotel. We sneak in a quick lunch before the two younger kids head to Just Kiddin', the onsite kids club with an indoor slide and plenty of toys and crafts. My older son explores the resort on his own with a few boys of similar age.
While the kids are occupied and cared for, I head to one of the adults-only spaces for some 'me' time. Some days, I enjoy a quiet afternoon by the adults-only pool. On other days, I indulge in water therapy at the Vassa Spa. Here, a guide escorts me through the treatment as I enter herbal steam rooms and then relax in a large sauna. The hour-long session ends with time to enjoy a variety of water therapy including rainfall showers, whirlpools and bubble jets that target every muscle in my body.
Nighttime at Nickelodeon Hotel & Resorts Punta Cana is full of life. Dinner is available from a variety of restaurants each with a unique menu. Fresh fish and local produce share the spotlight at Sugarcane, a Latin American restaurant. At Verdello, a Sicilian kitchen, surprisingly authentic plates of pasta please diners of all ages. Choices also include the adults-only Kitchen 23, an indoor food truck, and Wok Wok, which offers Far East fusion. We alternate restaurants each night, delighted by the variety and freshness of the food.
After dinner, the courtyard fills with live music and local artisans. While parents sip champagne and cocktails, kids are invited to play in the courtyard amongst stilt walkers and balloon artists. I enjoy this part of the day the most. I sit back and watch as my kids run and play while I get a taste of the island's culture. Each night a unique show or event is offered for families at Aqua Nick.
On our last night, we arrive to find the entire lazy river filled with foam. I enter the lazy river as excited as my kids to play amongst the bubbles. We break into a fit of laughter as the foam coats our skin. These are the moments I will remember most when looking back on our stay.