Mom, Son NCL Cruise
By Fiona Tapp
Find out why vacations at sea are the perfect, versatile family-friendly trip.
I sold the idea of a cruise to my four-year-old son by telling him we were going on a boat – he loves all sorts of transport vehicles and was excited about the idea of living and sleeping on a ship. His fevered anticipation was contagious. Upon arriving in Miami on the big day for embarkation, I was just as excited as my son when I realized how big the ship was, with a guest capacity of just under 4,000 passengers. With all the included activities available, it was more like a floating mega resort than simply a ship.
This was our first cruise and joining us were my friend and her daughters; they were older at eight and 12-years-old and they had already discovered with delight, during a quick Internet search, that there was a bungee trampoline and climbing wall onboard the Norwegian Cruise Lines Getaway ship.
We sailed the Western Caribbean route through Roatan, Harvest Caye, Costa Maya and Cozumel. The highlight of which was a stop at the Island of Harvest Caye, off the shore of southern Belize. A seven-acre stretch of sparkling white sand awaited us where we played all day, taking cover from the sun underneath clam-shaped tents. My pal and I took turns to watch the kids while the other one splashed over to the swim-up bar, laid out in the sun and caught up with summer reading.
I took little-kid duty just in time for my son to fall asleep on a sun lounger as my friend and her daughters went to check out the 130-foot-tall Flighthouse to watch people zip line and do freefall jumps, with fantastic views of the mainland as the backdrop. Later in the afternoon, I took my little one out into the clear waters and taught him how to snorkel amid a rainbow of shimmering ocean life.
I quickly realized that one of the best things about a cruise vacation is that it's always changing. You're literally on the move all the time which multiplies the fun and unique experiences you can hope to have. With each port, you are brought somewhere new and different to explore. There is no way to be bored, which when you are travelling with sometimes jaded pre-teens is a real blessing.
I found that there were so many activities and amenities to keep the kids busy all day that it felt like the cruise was two vacations in one: a non-stop action-filled play-a-thon for the children and an elegant and restful break for the parents.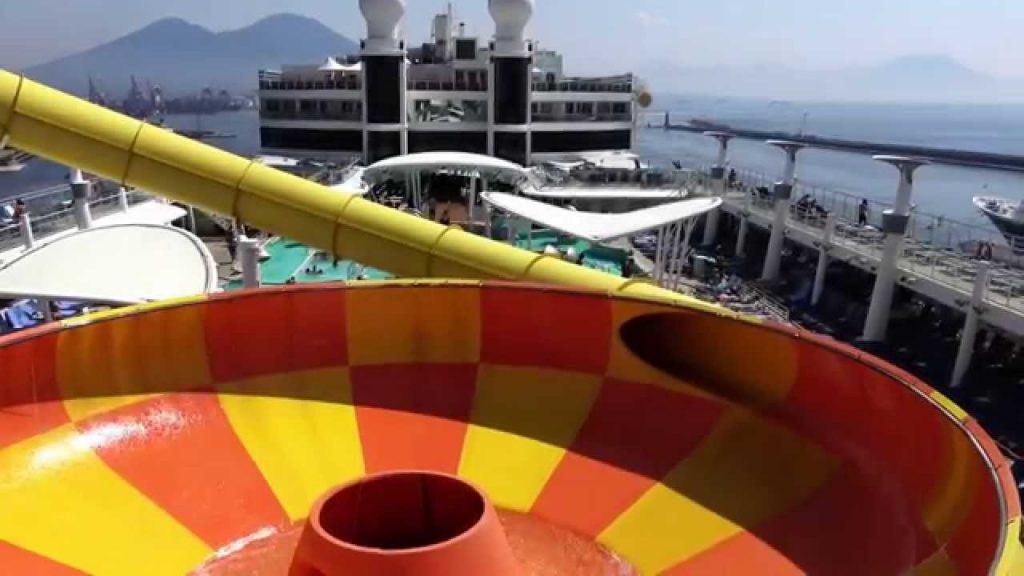 The kids played at the Aqua Parks at sea, which is one of the biggest waterparks on a cruise ship – yes that's right, a waterpark on a cruise ship! It featured multi-story water slides, a special Kids' Aqua Park, pools and hot tubs, so the adults could relax and chat while the kids splashed to their heart's content. On windy days or if we just wanted a change, we played a game of nine-hole mini golf or giggled as the kids completed the ropes course before us, making us walk the plank as they pretended to be pirates.
Rather than feeling like I had to entertain my son constantly, some days I hardly saw him at all! He went to the kids' club, Splash Academy, every day and really didn't want to leave. This freed up lots of time for my friend and I to enjoy the adult amenities on board, including the simple pleasure of walking the quarter-mile promenade called The Waterfront, or achieving a state of Zen in the Thermal spa and salt room.
We were delighted to find that we didn't need to stick to strict dinner times with the freestyle cruising method, and as kids eat for free, the pressure was taken off when dealing with fussy eaters. On the last night, we dressed up for dinner, which the girls loved, but for the rest of the vacation, we ate meals in shorts and T-shirts and enjoyed the relaxed, casual atmosphere which was perfect for families.
My friend's oldest daughter played babysitter some evenings once the younger kids fell asleep, so the adults could head over to the casino or comedy club, and of course, there were the traditional Broadway-style shows every night.
We stayed in a family mini-suite, which was bigger than I imagined but we really didn't spend much time in our cabin at all; all the fun was on deck. After a week at sea, I was a convert to cruises – this modern, family-friendly cruise offered by Norwegian Cruise Lines made for a dual vacation of both adult relaxation and kid-approved fun.