Extraordinary Jordan
By Karen Leiva
From hiking a world wonder to staying at an ecolodge in the desert, this small Middle Eastern country is a haven for adventure travel.
A historic body of water referenced in the Torah, Bible and Quran; a place where people go for healing water – floating along in the Dead Sea was a bucket list experience that I had romanticized long before I arrived.
In reality though, my experience turned out to be far more comedic than romantic – covered head-to-toe in therapeutic mud dredged up from the sea, my friend and I laugh watching one another struggle to keep our legs down even in shallow parts of the water. The high level of salt in the Dead Sea (almost 10 times more than any ocean) makes the water so dense, it is nearly impossible to stand, let alone swim.
It is the first of many pleasant surprises to come while travelling in Jordan.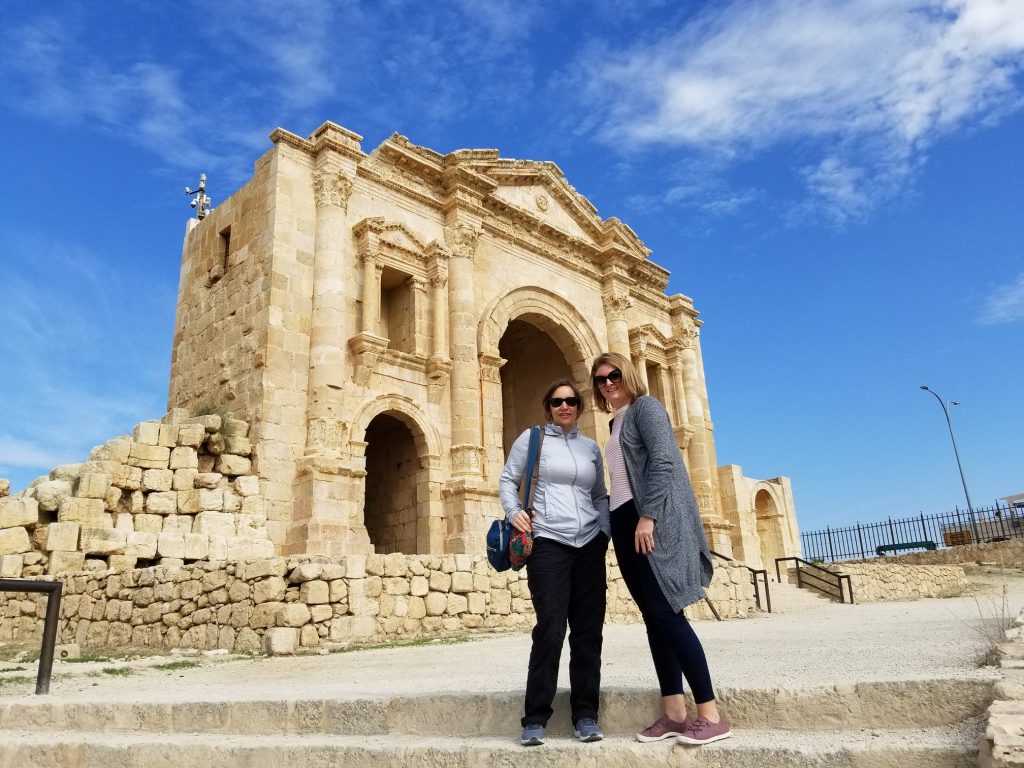 My friend, Sarah, and I have come to Jordan on a custom-designed tour. Our primary goal is to experience the Dead Sea and Petra, but we quickly realize there is so much more to this destination. Many people come to Jordan for just a few days, tagging it onto other trips to Israel or Egypt; but, with a wide range of extraordinary opportunities to explore nature, holy sites and thousands of years worth of archeology, Jordan is a travel destination on its own.
There was a time when tourism was the country's main industry (at its peak in 2010, Petra saw more than 900,000 visitors annually). The number of travellers steeply declined following civil unrest in the region during the 2011 Arab Spring. Jordan, however, has maintained peace over the years; and its tourism industry is committed to visitors' safety.
These days, more travellers are starting to return to Jordan – nearly 800,000 people visited Petra in 2017. It's a great time to see this world wonder, particularly in the shoulder season when crowds are thin, and the weather is cool.
One of the world's most famous archeological sites, Petra was carved out of sandstone mountains thousands of years ago. The city, built by Arab nomads called the Nabateans, was once a key location along an important trade route in Asia. Over time, Petra was conquered, abandoned, destroyed by an earthquake, and then rediscovered and shared with the world in the 1800s.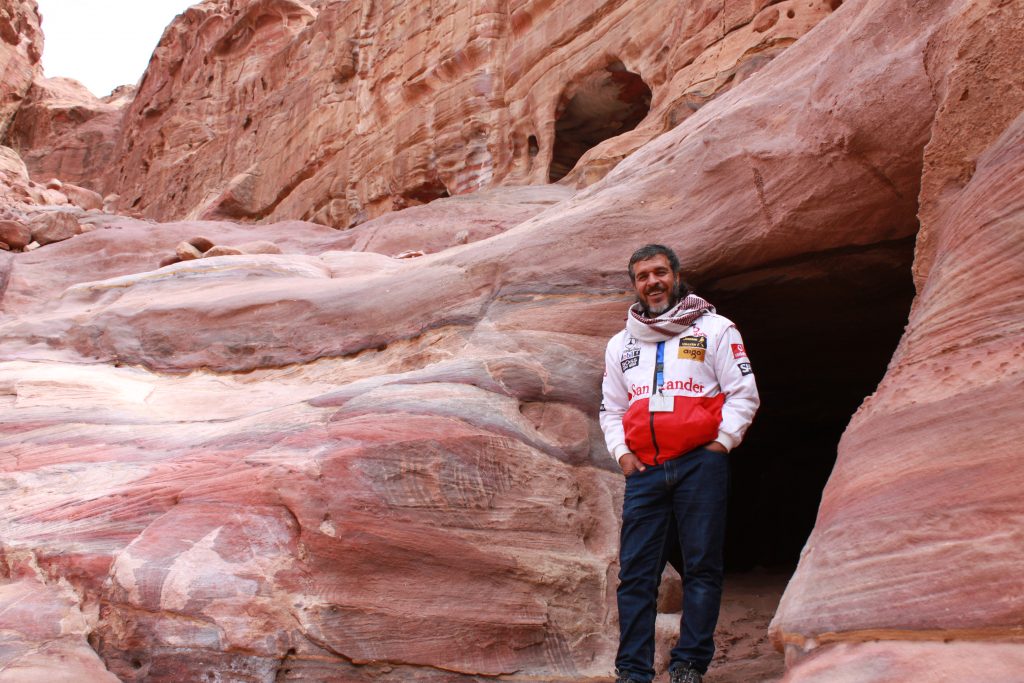 During our visit to Petra, we are fortunate to have a former archeologist as our guide. As impressive as the 'lost city' is, our guide explains that not all of it has been revealed – it is estimated there is still more than 80 per cent of the city to be unearthed. The most well-known of Petra's sites is the Treasury, with its intricately designed façade cut into the red sandstone rock face, but beyond this magnificent site, it is possible to hike further and explore other tombs and monuments.
Dodging donkeys along the way, my friend and I hike past the Treasury to reach a mountain-top tomb called the Monastery. It's quite a climb, ascending 850 steps cut out of mountain rock – but it's worth it. At the top, we stop long enough to catch our breath and enjoy a fresh pomegranate juice from a café overlooking the site. Believed to have once been used as a church, the Monastery is one of Petra's largest monuments standing 48.3 metres high and 47 metres wide.
After clocking 22,000 steps on my Fitbit exploring Petra for eight hours, it's time for Sarah and I to change tracks and head inland to experience the desert and its semi-nomadic Bedouin communities.
Off the main highway, we are picked up by a driver in a 4X4 truck who takes us twisting and turning through the darkness of one of Jordan's national reserves, the Dana Biosphere Reserve. The pitch black of the evening suddenly gives way to candlelight leading to an ecolodge created by Jordan's Royal Society for the Conservation of Nature, and hailed by environmentalists for its commitment to sustainability and ecotourism.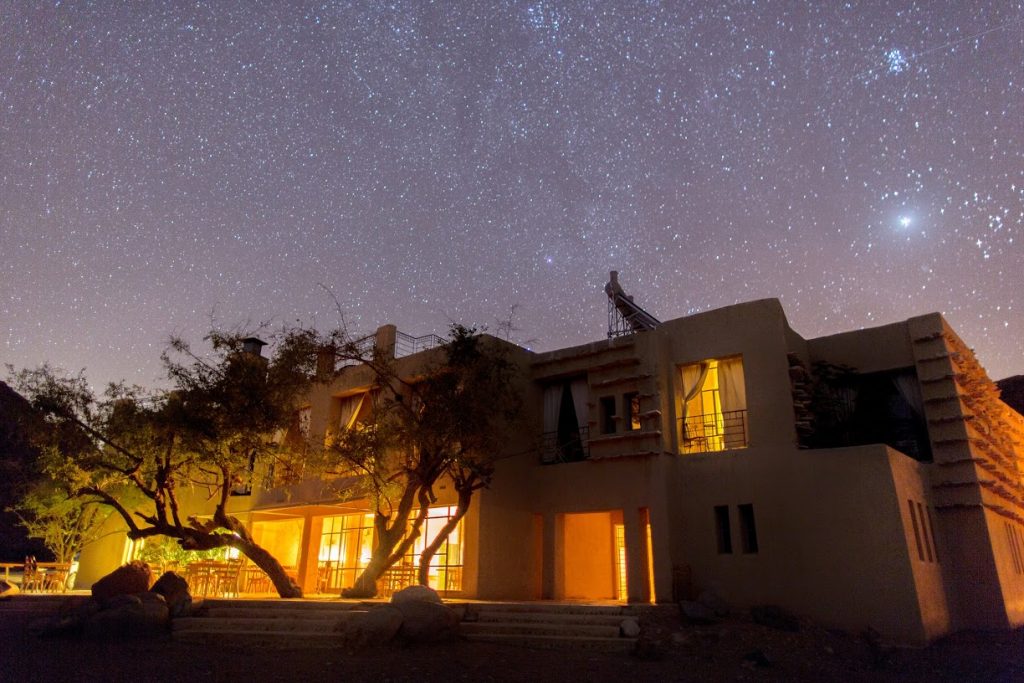 Tucked into the desert mountains, the Feynan Ecolodge has racked up a series of international awards, including being named among National Geographic Traveler's Top 25 Eco Lodges in the world. True to its commitment to the environment, there is no electricity. With only limited solar power, the lodge is lit by candles at night; approximately 4,000 candles handcrafted on-site by local women are burned here every month.
Find out how you can stay here through our Social Impact Traveller Journeys
On arrival, we are whisked into the dining area and welcomed with a candlelit spread of traditional Bedouin vegetarian cuisine of locally-made breads, eggplant, hummus, and cauliflower covered in tahini. Our first evening ends on the rooftop under a blanket of stars where a young Bedouin man weaves stories of Arab farmers' interpretations of the constellations. With no surrounding light pollution, we can easily spot the Milky Way, Orion, and the Little Dipper, among others.
The sand-coloured lodge with open-air hallways and courtyard blends seamlessly into the desert environment. Staff are made up entirely of Bedouins; many don't speak English but welcome you with smiles and kind gestures. On one day, Sarah and I walk to meet locals for a demonstration on bread-making (cooked in coals, covered in sand), led by Sulieman Hasaseen, who works in the lodge's reception. "This is my family home," he says, just a short walk away from the lodge. He points to a cluster of tents covered with black tarps hand-made with goat hair. There's also a herd of sheep, goats and a small vegetable garden. "As you can see, I do not have far to commute to work."
Following generations of a nomadic lifestyle, Bedouin continue to live in tents along the wadi (a dry valley that can flood in the rain season), moving twice annually – they relocate further in the mountains for cooler temperatures. We see many of their camps as we hike for four hours on easy terrain along the wadi, waving to children running out of tents to greet us along the way.
Visiting the lodge leaves us another reason to be in awe of Jordan, but soon it's time to make the three-hour journey back to Amman for the final leg of our tour. Our last stop is a visit to a women's artisan co-op in Iraq al-Amir, a small village on the outskirts of Jordan's largest city. The Iraq Al-Amir Women Cooperative Society aims to help women who would otherwise not have opportunities to work. To date, more than 150 women have received training here. Some make beautiful ceramics (I bought a large vase), natural olive oil soaps and cards.
Sarah and I decide to take our last meal in Jordan here at the co-op with the women preparing for us a simple, but exceptional mezze – a spread of small plates serving bread, jams, olives, fermented yoghurt, and galayet bandora, a traditional tomato stew. By the time we are finished tucking in, we are completely satisfied – not just with the food, but with our entire visit to Jordan. We say our farewells to the women at the co-op, thank them for their hospitality and receive warm hugs in return. It's the perfect end to our journey.